Monday, 2nd December: A group of leading developers and state bodies have committed today to reduce carbon emissions associated with their construction projects.
Property developers, Hammerson, Hines and IPUT, and state procurement bodies, Transport Infrastructure Ireland and Dublin City Council, have committed to reduce the upfront embodied carbon associated with their projects. Upfront embodied carbon is the carbon emitted during the manufacture of products for construction.
To mitigate the full carbon impact of the construction of their projects, the commitment signatories will now request Environmental Product Declarations (EPDs). EPDs provide verified and transparent information on the environmental footprint of a construction product in a standardised way.
To date the Irish building regulations have focused on the carbon emissions from the operation of buildings. Under the new nearly Zero Energy Building (nZEB) standard, all new buildings must be highly energy efficient. However, the standard does not take into account the emissions associated with the construction of a property. Globally, the manufacture of construction materials and the construction process itself are responsible of 11% of carbon emissions. In Ireland, it is estimated that at least half of the lifecycle carbon impact of nZEB dwellings will occur before they are even occupied.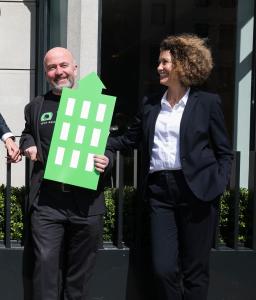 Pat Barry CEO of the Irish Green Building Council stated: 'Leading developers now expect transparent data on the impacts of construction materials they use. Today's commitments send a clear signal to the market, that upfront embodied carbon associated with construction materials can no longer be ignored'.
A growing number of Irish construction product manufacturers are publishing transparent environmental data on their products through the EPD Ireland programme – www.epdireland.org. These include Medite Smartply,Munster Joinery, Quinn Building Products, Kilsaran, Kore and Ecocem.
Louise Ellison, Group Head of Sustainability at Hammerson added: 'This is an important initiative that will improve understanding of the environmental impacts of products across the supply chain. We are delighted to be able to support such a positive step forward by the sector'.
Commenting on Cherrywood development, Brian Moran, Senior Managing Director, Hines Ireland said: 'Hines is committed to driving transparency of environmental impacts on the Cherrywood development. We have requested the contractor to use construction products with EPDs where possible'.
For further information, please contact Marion